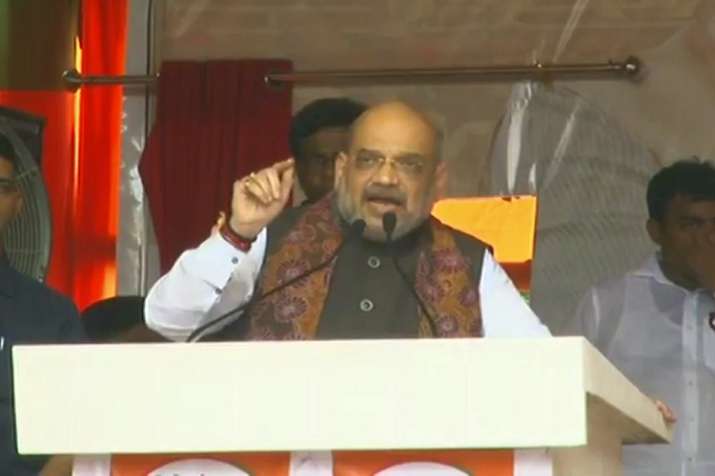 Launching a double-pronged attack on West Bengal Chief Minister Mamata Banerjee and Congress president Rahul Gandhi, Bharatiy Janata Party (BJP) president Amit Shah on Saturday demanded the Opposition leaders to clear their stand in Bangladeshi infiltrators.
Addressing a big rally at Kolkata's Mayo Road, Amit Shah said neither the Congress nor the Trinamool can bring prosperity to Bengal which has been suffering for decades due to Left rule. Amit Shah said the crowd at the rally shows that "change was imminent in Bengal".
Sending a clear message to Mamata Banerjee over the contentious National Register of Citizens Assam, Amit Shah demanded answers from Mamata Banerjee as who she wants to keep the illegal Bangladeshi migrants in India. He added that the BJP was not against Mamata but against infiltrators who indulge in all sorts of anti-India propaganda. 
तृणमूल के लोग भ्रान्ति फैला रहे है कि NRC के तहत शरणार्थी भी चले जायेंगे लेकिन में आश्वस्त कर दूँ कि पश्चिम बंगाल में जितने शरणार्थी है उनको वापस भेजने का कोई कार्यक्रम नहीं है। शरणार्थियों को रखना ये भारत सरकार कि ज़िम्मेदारी है : श्री @AmitShah #BJPForSonarBangla pic.twitter.com/9uhSD9z72x

— BJP (@BJP4India) August 11, 2018
"Why are you shielding infiltrators. We will make sure that the process of NRC is carried out peacefully in Assam. Neither Mamata Banerjee nor Rahul Gandhi can stop us from doing it. Rahul Gandhi is also not clarifying his stand on the issue. This is because of Congress' vote-bank politics," Amit Shah said triggering a huge applause from the massive crowd. "Earlier we used to hear the sound of 'Rabindra Sangeet' everyday in Bengal but now you hear only the sound of bomb explosions here," he said.
The BJP chief urged people to vote for the BJP if they want a developed Bengal. 
"Mamata didi was elected because she vowed to fight against corruption but now scams are everywhere in the state. If you want a corruption free Bengal, you have to vote the BJP to power," he said.
Responding to Mamata Banerjee's charge that the BJP was anti-Bengali, Shah said that how could a party, founded by a Bangali, could be anti-Bengali.
"We are not anti-Bangla, but we are definitely anti-Mamata. We'll uproot Trinamool Congress from West Bengal," Amit Shah said.
Asking Congress President Rahul Gandhi to clearly spell out his stand on the NRC in Assam, BJP President Amit Shah on Saturday asserted that his party was committed to completing the registration process to identify infiltrators notwithstanding opposition from Trinamool Congress chief Mamata Banerjee.
"Mamatadi, NRC will not stop just because of your opposition. You are free to oppose. Congress leader Rahul Gandhi is free to oppose. But it is our commitment that we will complete NRC in Assam, by following the due process of law, and identify all infiltrators one by one," Shah said at a rally here.
Banerjee has been strident in her criticism of the National Register of Citizens (NRC) in Assam, after 40 lakh people did not find a place in the document's first complete draft published on July 30.
Accusing Gandhi of not making clear his position on the NRC for the sake of votebank politics, Shah pointed out that the work on the document was being done as per the Assam accord which was signed by then Prime Minister Rajiv Gandhi in 1985. 
Rajiv Gandhi, Rahul Gandhi's father, headed the Congress government at the Centre from 1984 to 1989.
"The work of the NRC is being done as per the Assam accord. Who formulated the Assam accord? It was formulated by then Prime Minister Rajiv Gandhi n 1985. 
"Then the Congress had no problem, but now for votebank politics, Rahul Gandhi is not making clear his stand," Shah said at the rally organised by the Bharatiya Janata Yuva Morcha.
Accusing Mamata-led government of indulging in corruption, Amit Shah urged the electorate to elect BJP in upcoming Assembly election for ushering in development in the state.
"Since the time the Trinamool Congress government came to power in Bengal — seven years ago, there has been series of corruption (cases) starting from the Narada scandal, Saradha and Rose valley ponzi scams… syndicates and the unlawful activities of cattle mafias and coal mafias.
"In order to free Bengal from the grasp of this corruption, it is necessary to bring the Narendra Modi-led Bharatiya Janata Party in power here.
"It is not just a question of 'Paribartan' (change) this time. I ask all of you to uproot this Trinamool Congress government and throw it away," the BJP chief thundered.
Pointing out that the Congress, Left front and Trinamool were all given a chance to run the state, Shah urged people of West Bengal to now give a chance to the saffron outfit as he promised to bring back Bengal's glorious past.
"Trinamool Congress, Communists and Congress cannot bring prosperity in Bengal. They were given an opportunity by the people but they failed. Give one chance to Narendra Modi, he will bring development in Bengal," Shah said
Referring to the fact that BJP is currently in power in 19 Indian states, Shah claimed the journey of his party cannot be considered complete unless it emerges victorious in West Bengal — the land of Jana Sangh founder Shyama Prasad Mukherjee and many other statesmen.
"I want to tell all the BJP activists in Bengal that our governments in 19 states does not bear much significance unless we win in Bengal, the land of Syama Prasad Mookerjee, Swami Vivekananda and Rabindranath Tagore. 
"Our chariot of victory should not be stopped until we emerge victorious in Bengal," he said.
He also claimed there has been a total lapse of the law and order situation in the state under the current regime.
"The law and order situation in the state is in shambles. Bengal is filled with the sound of bombs and bullets. Everyday we get to hear about the unearthing of illegal bomb factories, gun factories. 
"The number of illegal arms factories are increasing day-by-day under this Trinamool Congress government," he added.
Watch: BJP president Amit Shah addresses rally in Kolkata
Mamata didi, do not hinder Durga immersion or stop Saraswati Puja: Amit Shah in Kolkata
Warning West Bengal Chief Minister Mamata Banerjee against hindering either Durga idol immersion or the Saraswati worship in the state, Amit Shah said his party activists will "bring down Banerjee's secretariat brick by brick" if such things ever recurred.
He said these festivals will be celebrated with full fervour if BJP formed government in Bengal.
"They (Trinamool Congress) do not allow the immersion of the Durga idols after puja. Saraswati Puja has been stopped in many schools in Bengal. Should that happen? Form a BJP government in Bengal, Durga immersion and Saraswat Puja will take place with full fervour. No one can stop that," Shah said during his rally at Kolkata's Mayo Road.
"Mamata didi, do not dare (to do such things) again. If you dare to do this next time, the BJP activists will bring down your secretariat brick by brick, but the Durga puja will take place at any cost," he said amid cheers from thousands of party activists.
The Durga Puja immersion processions were delayed over the past few years in certain parts of Bengal as Muharram rallies and the two events coincided.