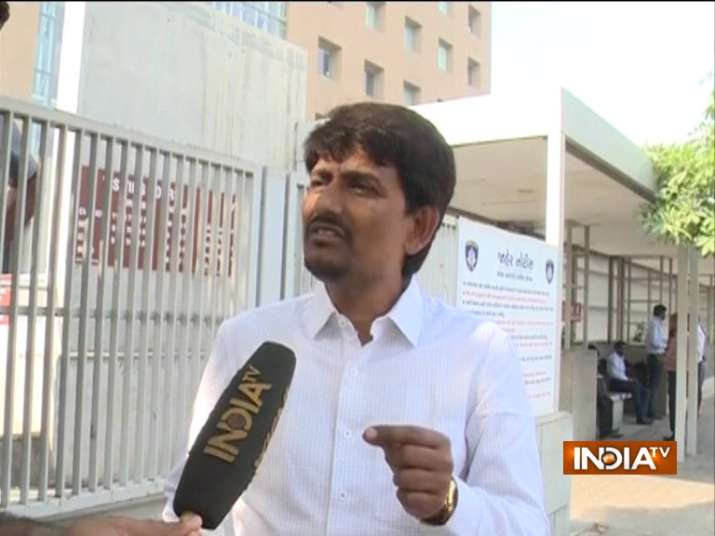 Clarifying his stand on attacks on North Indians in Gujarat, Congress leader Alpesh Thakor on Tuesday said that attacks on him are politically motivated.
"Attacks on me are politically motivated. I'm Congress party's in-charge in Bihar and that is why attempts are being made to tarnish my image," Thakor said in an exclusive conversation with India TV.
He also clarified that he has no problem if people from outside get job in Gujarat.
"I have full sympathy with the poor people as I have lived with such people," he said and added "we all are Indians".
"The act is done by one single person and attacking the entire community for the same is wrong," Thakor stressed.
It is pertinent to mention here that there are allegations on the Congress leader that he tried to instigate Gujarati people against North Indians.
Meanwhile, the Bahujan Samaj Party (BSP) chief Mayawati on Tuesday attacked Prime Minister Narendra Modi and said that the attack on North Indians in Gujarat, is unacceptable.
Gujarat is the native state of PM Modi.
"It is sad that people who voted and made Modi ji win from Varanasi are being targeted in Gujarat. The BJP government in Gujarat should ensure that strict action is taken against those responsible for such attacks," ANI quoted BSP chief as saying.
North Indians are not foreign citizens, she said. 
On Monday, commenting on the violence against Uttar Pradesh and Bihar migrants in Gujarat, after a rape case in Sabarkantha, Bihar Chief Minister Nitish Kumar said that he had a word with Vijay Rupani. 
"I spoke to Gujarat CM yesterday. We're in touch with them. They're monitoring the situation. Those who've committed a crime should be punished but no bias should be harboured for others," ANI quoted Kumar as saying.
On the same day, Gujarat Home Minister Pradeepsinh Jadeja said that the government has "taken action."
"Police are interrogating the people who have been arrested for these attacks. Police are taking action wherever needed. We have registered 3 cases under the IT Act for spreading hatred on social media," Jadeja added.
A large number of migrant workers from states like Bihar and UP have left north Gujarat after protests broke out over the rape of a 14-month-old baby girl by a man from Bihar last week, the cops said. 
Non-Gujaratis, especially those hailing from UP and Bihar, were targeted in several parts of the state following the arrest of a Bihar native, police said.
On September 28, a 14-month-old girl was allegedly raped in a village near Himmatnagar town, around 100 km from Ahmedabad. One Ravindra Sahu, a labourer hailing from Bihar working in a local ceramic factory, was arrested the same day and charged with the toddler's rape.
WATCH VIDEO: Never imagined this would happen in Gujarat, I consider North Indians as my bother, says Alpesh